Non-GMO Verified
Gluten Free Certified
2 portion controlled steam heating bags inside
Great high protein, low calorie snack or side-dish
eda-zen® edamame are grown and harvested from the rich and healthy soils of the American Heartland. This fertile soil helps make eda-zen® edamame sweeter and better tasting. Rich in protein, ber and antioxi- dants, our edamame are a convenient low carb snack. Try them as a complement to any meal!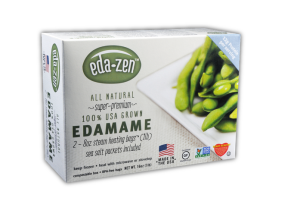 Edamame Pods
Shelled Edamame
Our edamame is prepared in a peanut and tree nut-free facility and safe for those with nut allergies.  We do not process any dairy, seafood, or fruits at our facility, but we do use sesame in our some of our seasonings.